Garage Construction
Garage Construction in

Fairmont

, WV
Looking for a durable and affordable garage? Look no further than Eastern Buildings!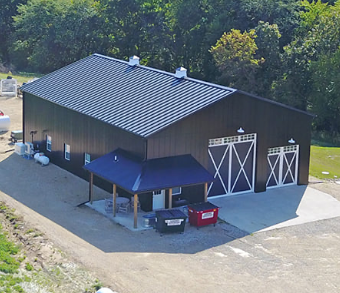 Eastern Buildings is your one-stop-shop for all your garage needs. We offer a wide variety of walk-in doors to choose from, as well as windows and ventilation options to help you customize your space. Our buildings are designed to withstand harsh weather conditions, and our professional installers will work with you to ensure that your garage is built to last.
Whether you want a metal garage for your vehicle or for extra storage around your house, we have the solution for you! Best of all, we offer our products at an affordable price, so you can rest assured that you're getting the best value. Contact us today to learn more about our products and excellent service.
---
We offer a Wide Variety of Color Combinations For Your Garage Build
With 16 different color options that can be combined in a variety of different ways, the possibilities are endless! To learn more about what colors are available, or to experiment with choosing your perfect color combination, try out our color visualizer tool today.
---
High-Quality Metal Garages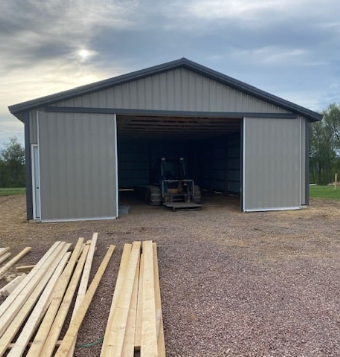 We specialize in metal garage construction and install services that are built to last, no matter where your property is located. You can trust us to provide you with a high-quality product that will meet your needs and budget.
Metal garages are a popular choice for those in need of extra storage space or looking for a more durable option than a traditional wooden garage. Metal garages are also becoming increasingly popular as metal buildings due to their many benefits. Metal garages are fire-resistant, termite-proof, and extremely durable, making them a wise investment for those in need of a reliable storage solution. Metal garages are also much easier to maintain than wooden structures and can be easily customized to meet your specific needs. Metal garages also do not mold like traditional wood garages. If you are in the market for a new garage, metal is the way to go.
---
Customize Your Metal Garage
When it comes to garage doors, we have a wide variety of options to choose from. Whether you're looking for a traditional garage door or something more modern, we have what you need. We also have a variety of paint colors and roof styles to choose from, so you can find the perfect garage door to match your home. Some roof styles we offer are vertical roof and regular roof style. Our garage doors are made from durable material that will stand up to the elements and keep your belongings safe and secure, so if you're looking for extra storage space or a place to store your car, our garages are the perfect solution.
Durable and Long-Lasting Garages
Our metal garages are low maintenance and provide a safe and secure place to store your vehicles and other belongings. Our construction services are top-notch and we use only the highest quality materials to ensure that your garage will last for years to come.
Contact us today to learn more about our metal garage construction services! We would be happy to answer any questions you may have, provide a free quote, and and look into financing. We look forward to hearing from you soon!
---
Garage Construction Timelines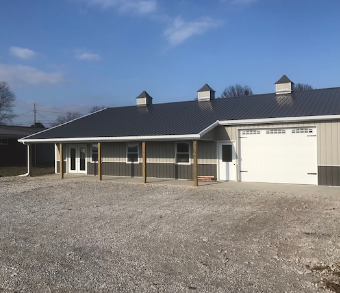 At Eastern Buildings, we understand that our customers have a timeline they need to adhere to. That's why we offer lead times that outpace other metal building manufacturers in our region. The installation process can also vary depending on the size and scope of the project, as well as any add-ons that are requested. Our team will work with you to ensure that your building is delivered and installed on your schedule. With Eastern Buildings, you can rest assured that your project will be completed on time, within budget, and with maximum durability no matter the location. Check out our completed projects here!
Other Buildings
Steel Buildings
Wood Buildings
Carports
Residential
Partially Enclosed
Metal Carports
Farm Buildings
Custom garage
Other Structures