Horse Barns
Horse Barn Construction in Fairmont, WV
Need help building a horse barn? Look no further than Eastern Buildings!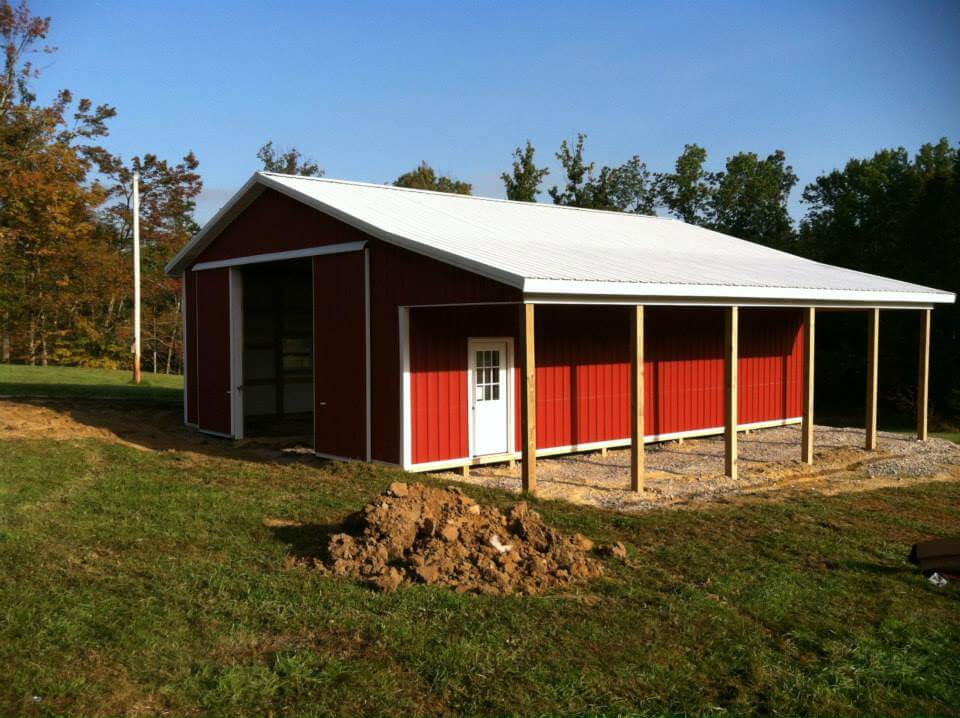 Horse owners have a responsibility to give their animals excellent quality of life. One of the best ways to provide your horse with safe and comfortable living quarters is by buying a new horse barn.

For this project, trust the horse barn design experts at Eastern Buildings. We specialize in building durable horse barns that stand the test of time. From reviewing your floor plan to finding the best natural light to constructing your dream barn, we're with you every step of the way.
Why build a horse barn? Check out a few of the main benefits below.
Easy Accommodation: When a horse suffers from an injury or illness, they require stall rest. Fortunately, they can be easily accommodated in a horse barn, shielded from harsh weather and surrounded by blankets and hay. Whether you're brand new to equestrian life or find yourself needing extra space for more horses, a barn is a sound investment.
Training Advantages: Dealing with an uncooperative horse? If a horse is still in the training stage, horse barns are the perfect solution for saddling up in a safe, secure, contained space. You can even add a tack room for equipment storage and a wash bay for grooming.
Monitoring Made Easy: A barn is also great for hay storage! In addition to keeping hay dry, a barn makes it easy to keep an eye on manure production and feed consumption while cleaning horse stalls.
Protection from the Elements: Your horses deserve shelter from wind, rain, snow, and storms. Exposure to bad weather can cause illness and skin problems, leading to expensive treatments. A barn will keep your horse warm, dry, and comfortable for years to come.
---
We offer a Wide Variety of Color Combinations For Your Horse Barn Build
With 16 different color options that can be combined in a variety of different ways, the possibilities are endless! To learn more about what colors are available, or to experiment with choosing your perfect color combination, try out our color visualizer tool today.
---
Beautiful & Functional Horse Barn Construction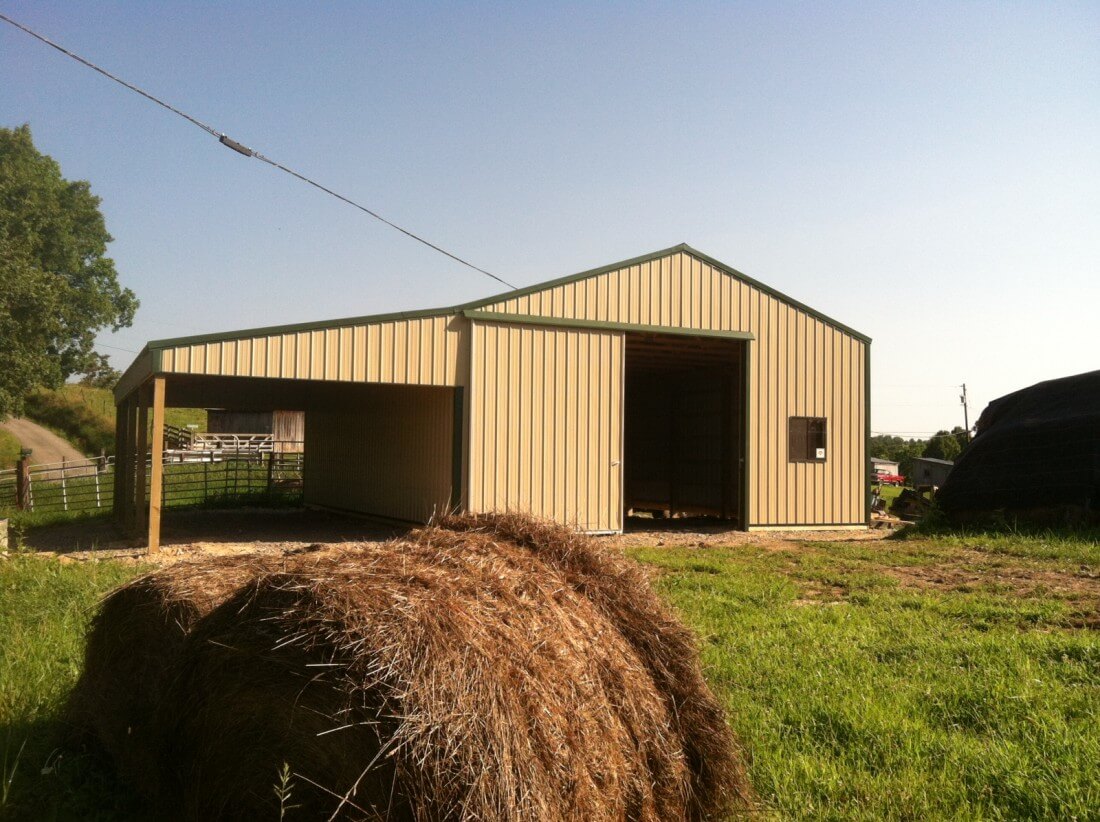 At Eastern Buildings, you can expect high-quality materials and great customer service. Whether you need a small horse barn to start out with or a large custom build, our builders consider your functional needs and desired aesthetic.
From planning to construction, customer satisfaction is always our top priority! We take pride in our versatility and creativity, and we uphold a commitment to excellence in engineering, design, strength, and beauty. Our horse barns are capable of being built with a variety of amenities, including horse stables, tack rooms, feed rooms, and more.

With a wide selection of customizations for custom pole barns for horses—including 16 different color options—the possibilities are endless. Try out our color visualizer tool today to start designing your dream barn and find your perfect color combination.

In addition, we also offer financing to help make your dream horse barn a reality. We invite you to check out our project gallery or contact us now for a free estimate for barn construction!
---
Choosing Where to Build Your Horse Stalls or Pole Barn
Unlike modular horse barns, shed row barns, and other horse barn kits, a pole barn is considered a permanent structure. Adding one to your land is an important decision.
So where should you put your new pole barn to make the most of your property? Here are a few important factors to consider:
Drainage: Avoid pooling water and flooding by ensuring your new barn has adequate drainage. To determine if a location has good drainage, observe the ground during a rain storm and see if water naturally pools. Any standing water is a good indication the draining at that site is not enough.
Level Ground: Level ground is crucial for a good build. In addition, having a level base also helps with drainage. In some cases, it may be necessary to purchase additional topsoil to level out a site.
Utilities: Horse barns should be easy to hook up to running water and electricity. Choosing a site that already has access to existing utilities saves money and time. We recommend inspecting your electrical wiring often to prevent fire hazards.
Climate: Consider your location's climate. In hot climates, place the pole barn out of direct sunlight to keep it cool. In colder climates, take advantage of the sun to heat the pole barn.
Proximity: The barn should be near enough to your home for convenience, but far enough away for you to avoid the smells and sounds of livestock.
For more advice on horse barn installation, standard features, and site prep, call or contact our team online.
---
For Quality Horse Barn Construction, Call Eastern Buildings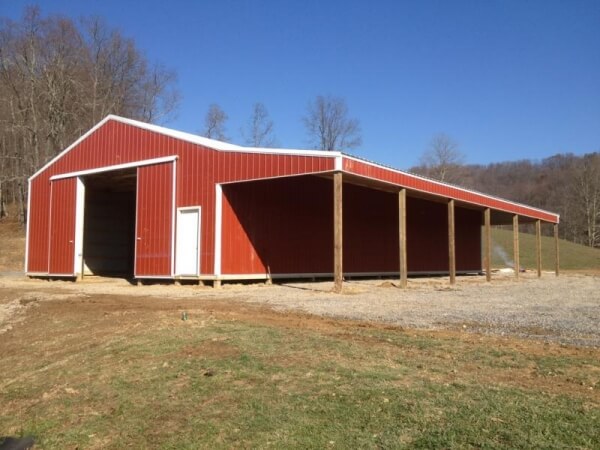 If you're looking for custom barn builders with years of experience behind them, you've come to the right place! At Eastern Buildings, we pride ourselves on our close attention to detail and we use only the highest quality materials for each build.

We have proudly served West Virginia residents for decades. If you're in Morgantown, Charleston, Parkersburg, Fairmont, Wheeling, Millwood, or surrounding areas and in need of reliable custom pole building or agricultural barn services, look no further than Eastern Buildings, LLC.

To find out more about our quality barns and how we can assist you with creating the ideal home for your horses, contact us today!
Other Buildings
Steel Buildings
Wood Buildings
Carports
Residential
Partially Enclosed
Metal Carports
Farm Buildings
Custom garage
Other Structures