Pole Barns
Pole Barn Construction in

Fairmont

, WV
Building a Pole Barn? Look no further than Eastern Buildings!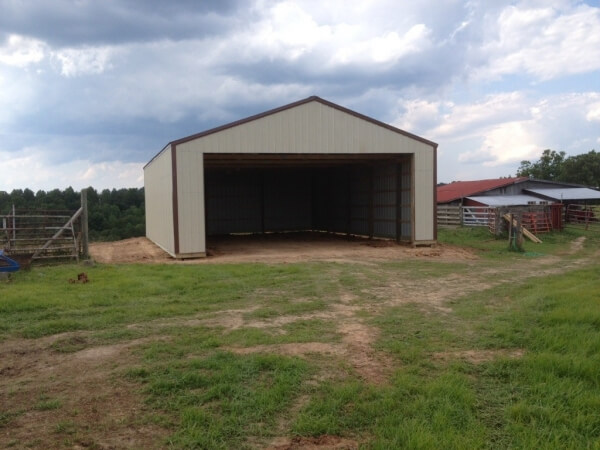 A pole barn is a type of agricultural building that is typically used for storing hay, equipment, or horse barns. They can also be used as a pole barn garage or provide large storage space that typical storage sheds cannot. The main feature of a pole barn is its large, open space, which can be easily accessed by barn doors on either end.
Pole barns are usually made out of wood, metal, or concrete, and they are often left unpainted to provide a more rustic look. Because they are relatively simple and inexpensive to build, pole barns are a popular choice for farmers and ranchers. However, their open design means that they are not well-suited for protecting fragile equipment or animals from the elements.
What is a Pole Barn Kit?
A pole barn kit is a set of materials that you can use to build a pole barn. Kits typically include everything that you need to build the barn, including the poles, lumber, trusses, and hardware. Many companies sell pole barn kits, and you can also find kits at some home improvement stores. Unlike total DIY pole barns, kits provide you with the materials and dimensions for you to work off of.
---
We offer a Wide Variety of Color Combinations For Your Horse Barn Build
With 16 different color options that can be combined in a variety of different ways, the possibilities are endless! To learn more about what colors are available, or to experiment with choosing your perfect color combination, try out our color visualizer tool today.
---
Benefits of Pole Barn Kits
There are many reasons why you might want to consider getting a pole barn kit. For one, pole barns are extremely durable and can withstand high winds and heavy snow loads. They are also relatively easy to construct, making them a great option for do-it-yourselfers. In addition, pole barns are highly versatile and can be used for a variety of purposes, such as storage, workshop space, or even an office or studio.
If you're looking for an affordable, durable, and versatile building solution, a pole barn kit is a great option to consider.
Pole Barn Kits VS DIY Pole Barns
A pole barn is a great way to add extra storage or workspace to your property. But what's the best way to go about building one? Some people opt for a do-it-yourself approach, but that can be time-consuming and difficult. A better option is to get a pole barn kit.
Pole barn kits come with everything you need to build a strong and sturdy pole barn, including the poles, lumber, trusses, and fasteners. Plus, they're easy to assemble – most people can put one together in a weekend. So if you're looking for a fast and easy way to build a pole barn, a kit is the way to go.
---
What to Consider When Building A Pole Barn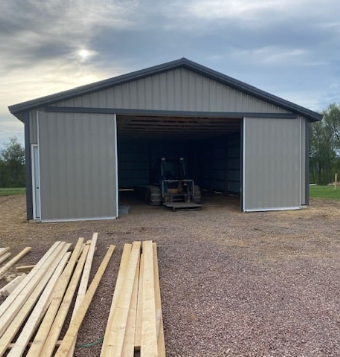 If you're considering a new pole barn, you may be wondering if a pole barn kit is the right choice for you. Of course, there are many features to consider when making such a decision, but one of the most important is the level of customization you need. A pole barn kit can provide you with everything you need to get started, including blueprints and materials.
However, it's important to note that not all kits are created equal. Some are very basic and only include the bare minimum, while others offer a wide range of options that allow you to customize your pole barn to your specific needs.
When deciding on a pole barn kit for your property, be sure to assess all the options and choose one that will give you the level of customization you require.
Things you should look at when buying a pole barn kit to fit your particular needs:
Post frame construction
Wood posts
Wood siding
Proper ventilation
Wall height
Wall girts
Windows
Insulation
Roofing type
Door placement
Enclosed or three sides
Concrete mix
Price
What Are Post Frame Buildings?
Post frame buildings are a type of construction that uses large, structural posts instead of load-bearing walls. Poles support the roof, and walls are entirely optional. This type of construction is also known as pole barn construction, and it has a number of advantages over traditional methods.
First, they are more flexible, meaning they can be easily adapted to changing needs. Second, post frame construction is much faster than other methods, making it ideal for projects that need to be completed quickly. Finally, a post frame building is more durable than a traditional structure and can better withstand extreme weather conditions. As a result, post frame construction is becoming increasingly popular for a wide range of applications.
For More About Custom Pole Barn Kits, Contact Us Today!
When it comes to pole barns, there is no one-size-fits-all solution. The size, style and features of your pole barn will be determined by your specific needs. That's why it's important to work with a company that offers custom quotes and a variety of pole barn designs.
At Eastern Buildings, we take the time to understand your unique requirements and create a pole barn that is specifically tailored to your needs. We also offer a range of customization options, so you can choose the perfect look for your property. Contact us today to get started on your custom quote for pole barn kit prices.
Other Buildings
Steel Buildings
Wood Buildings
Carports
Residential
Partially Enclosed
Metal Carports
Farm Buildings
Custom garage
Other Structures